Hi my friends, I hope you are all staying home, keeping well and embracing the self-isolating, social distancing world we all find ourselves in. Inconvenient at times, I know, but a small sacrifice to make to keep our family, friends and frontline workers safe. I've always been an adapt and overcome, pull up my big girl knickers kind of a girl so to keep my spirits up I've been enjoying the beautiful weather, spending lots of time pottering about in the garden, having way more alfresco coffee breaks than normal and regular video calls to keep in touch with family and friends. And a huge thank you to Tim and Mario, my adorable Professor and his amazing ever so sweet Wingman for the weekly invitation to join them over at their place for a fun and inspiring Saturday night Facebook Live Crafting party which is now one of the highlights of my week. Saturday night at 6.00pm, if you're in the UK, live on
Tim's Facebook page
or you can watch the replay later on
Tim's Blog
. There's no dress code, no need to spend hours applying polyfilla, or trying to control the bird's nest hair, just turn up in your jammies and hang out with lots of happy crafters.
Inspired by Tim's Facebook Lives, I've been enjoying Stay At Home Play Days in the cubbyhole, revisiting past techniques using products I'd long forgotten to create inserts, pockets or journaling cards to use in the Collection Folio project I'm planning to complete this Summer.
Apologies for the higgedly piggedly collection of photos but it was a go with the flow fun playtime and we all know how you get caught up in the moment and forget to grab the camera. I began by digging out the "bought ages ago/but never got round to using" Distress Custom Blend pads and inked with a mix of Distress Oxide and Distress Ink re-inkers.
I smooshed the ink pads on to the craft mat on my Glass Media Mat, swiped Distress Watercolor card through the ink, dried, spritzed with water and tapped back into the droplets of ink to create swatches.
I added labels of the ink colours used on each pad while the re-inkers were still on my desk because my memory is not what it was and even 10 minutes later I would have forgotten what colours I had used, sound familiar.
Then it was time to create some panels for my Collection Folio using some of the techniques shared by Tim. I trimmed Distress Watercolor card to A2, added Idea-ology Specimen Remnant Rubs
a little stamping using the text stamp from Flower Shop inked with Ground Espresso Distress Archival and applied Distress Micro Glaze through the Digits and Bubbles Layering Stencil. Both these products will resist any inks applied on top so I repeated the smooshing technique with the custom blend pads, added spritzes of Frayed Burlap and Vintage Photo Distress Oxide inks, dried and wiped the ink off the Remnant Rubs and Distress Micro Glaze with a kitchen towel.
Then I found a pack of Idea-ology Alpha Cards, retired some time ago and hiding in the depths of a drawer.
I stamped the images from Tim Holtz/Stampers Anonymous Wildflowers, another oldie but still a favourite,
inked with Black Soot Distress Archival on the middle panel, Ground Espresso Distress Archival on the right and Vintage Photo on the left, sprinkled with the matching Distress Embossing Glazes and heat set. I added colour to the edges of the Idea-ology Alpha cards using Distress Oxide ink pads, sprinkled with Distress Embossing Glazes and heat set.
I matted the panels on to kraft card and added machine stitching
I'm looking forward to another play day in my happy place
Have fun whatever you are creating
Hugs Kath xxx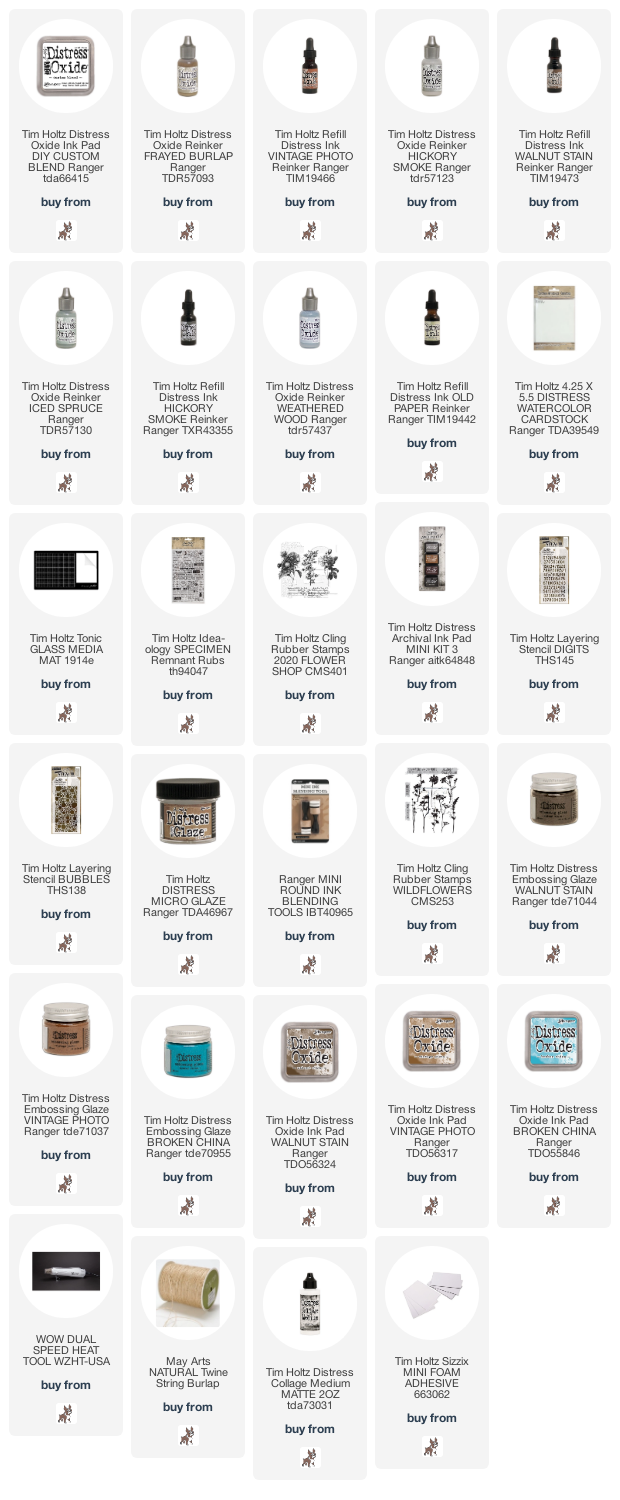 Where available I use compensated affiliate links which means if you make a purchase I receive a small commission at no extra cost to you. You can find my affiliate and product disclosure
HERE