Happy Easter Weekend my friends, I had intended sharing an Easter card with you but technology put the scuppers on that idea. I've spent almost the whole week sitting at the computer doing battle with gremlins. My Skype mic stopped working and I've had to resort to Facebook Messenger to keep in touch with family and friends, Instagram decided to join the party and wouldn't let me post photos from my tablet but hey ho, thanks to Google, I found a way to post from my laptop, not ideal but better than nothing and Pinterest is now making me jump through hoops to pin anything. My fear that, no visit to the hairdresser anytime soon, will leave me looking like Worzel Gummidge may be unfounded because right now I'm tempted to tear all my hair out. I'll be spending Easter tucking into the eggs I can't deliver to the grandkids, dreaming of trips out and about when this is all over and praying that my plan to chat with a technie over at Microsoft next week, restores my sanity.
In the meantime, I'm sharing an Art Panel I created for a child's bedroom using the adorable Gertrude and Winifred Colorize, Falling Hearts and Tiny Type Lower Thinlits from Tim Holtz/Sizzix Chapter 1 and 2 releases.
I began by covering panels of white and Idea-ology Classic Kraftstock with Tim Holtz/Sizzix Adhesive Sheets. I die-cut the letters to spell out the word SAFARI using Sizziz BigXL Society and the hearts using Falling Hearts Thinlits. I trimmed thick chipboard to create an 8" square panel and covered with brown Idea-ology Classic Kraft Stock. I die-cut Gertrude and Winifred from white card stock to get an idea where to place the word and hearts. I fixed the letters and hearts in place with Distress Collage Medium Matte, added a smaller panel of brown Classic KraftStock matted on to white card and sanded the edges of the panel.
I die-cut Winifred and Gertrude from white card and Idea-ology Classic KraftStock using the colour guide on the dies. I added shading to the edges of each die-cut using Ground Espresso Distress ink using a mini round blending tool and assembled using the marks that the dies imprint on the cardstock as a guide for placement. I fixed Gertrude and Winifred in place using Tim Holtz/Sizzix Mini Foam Adhesive to create dimension.
I die-cut the word FRIENDS using Sizzix Alphanumeric Tiny Type Lower Thinlits and fixed to the rectange panel. I added die-cut hearts on the panel and to fill in any gaps around the animals. I added a faux stitch border around the main panel using a Sakura White Gelly Roll Pen and Tim Holtz Design Ruler. To finish I added faux stitching to 2 of the Safari letters and a die-cut heart above the letter "I".
I had great fun creating this panel and the big kid in me fell in love with these adorable animals. This would make a great photo album cover for friends who have been on a Safari Holiday.
And finally, whoever said that gremlins come in threes was wrong, because finding the right setting for my breakfast toast on my new toaster, has become my latest early morning challenge.
Enjoy your Easter Weekend everyone, stay safe and keep well
Hugs Kath xxx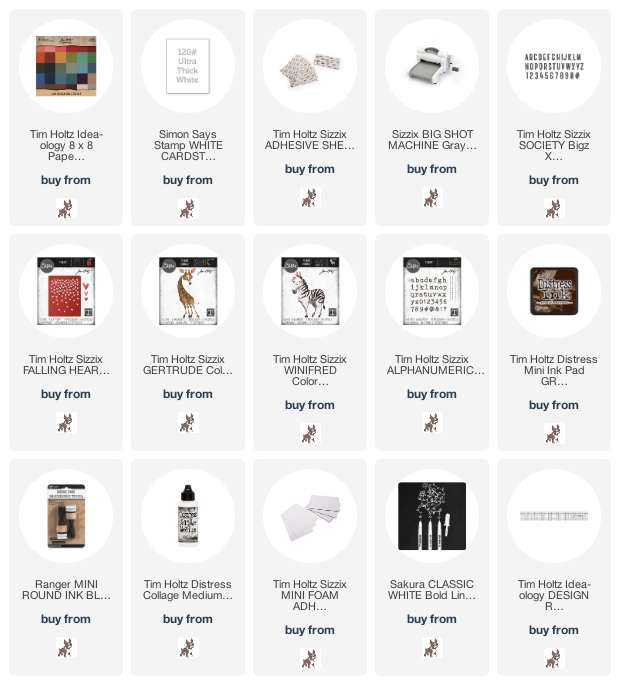 Where available I use compensated affiliate links which means if you make a purchase I receive a small commission at no extra cost to you. You can find my affiliate and product disclosure
HERE