Hi my friends, I hope you are all keeping well and before we know another week of staying home bites the dust. The weather has been beautiful in my neck of the woods and I've been playing truant from the cubbyhole, sitting in the sunshine, enjoying the peace and quiet, drinking coffee and watching the birds go about their daily business, in other words, doing absolutely nothing. But I did manage to drag myself back to my crafty space to have a play day, inspired by Tim's Facebook Live demo on Alcohol inks and Alcohol Lift ink, 2 hours of inspiration, hints, tips and lots of fun which, if you missed it, you can catch up on over at Tim's Blog
HERE
I had forgotten how much fun these products are, you never know what you're going to get and each project is going to be different. So I looked out some Yupo, threw caution to the wind, set my inhibitions aside and just went with the flow with a little help from the Distress Air Blower, the latest game changer to join my stash of cool tools.
and the fun continued with the amazing Alcohol Lift Ink technique.
I'm sharing two of the cards I created from the backgrounds but this is not a step-by-step tutorial as such because I had no idea how they would turn out and you could say I was on "a wing and a prayer, but lots of fun" adventure.
I created both cards in the same way just using different colours of Alcohol inks and different stamps and stencils for the Alcohol Lift It Technique
I used a 5" x 7" panel of Distress Yupo Paper, dropped on some Isopropyl Rubbing Alcohol, followed by drops of Moss Alcohol ink and a few drops of Mined Alcohol Alloy ink. I used the Distress Air Blower to move the inks around, dropped on some blending solution and more drops of Moss Alcohol ink until I was happy with the background. I added a drop of Alcohol Lift Ink re-inker to my glass media mat and pounced through the Bubbles Layering Stencil using a mini round blending tool and foam pad. I inked the script image from Tim Holtz/Stampers Anonymous Flower Shop with Ground Espresso Distress Archival ink and stamped randomly on the background.
For the second panel, I dripped Moss and Cobalt Alcohol inks on to my glass media mat, added a few drops of Mined Alloy Alcohol ink and sprinkled liberally with blending solution. I dragged the panel through the ink, added more drops of blending solution to the alcohol inks to reactivate, tapped the panel back in to the ink to pick up the residue and moved the inks around with the Distress Air Blower. I repeated this process several times until I was happy with the coverage. I inked the circle and background script images from Tim Holtz/Stampers Anonymous The Professor 2 with Alcohol Lift Ink (make sure that your stamps are clean before this step) and stamped on to the panel. Using a kitchen paper towel, I dabbed small sections of the panel at a time, moved on to a clean piece of towel each time until no more ink transferred to the towel and then buffed with a soft cloth. I inked the images from The Professor 2 and Flower Shop with Black Soot Distress Archival ink and stamped on both panels.
I added splatters of Antique Bronze Distress Mica Spray which accentuated the Mined Alcohol Alloy ink on the panels. I tapped the Distress Embossing Dabber over Idea-ology Quote Chips, sprinkled with Peeled Paint, Broken China and Vintage Photo Distress Embossing Glazes and heated until melted. I fixed the Theories Quote Chips in place with Distress Collage Medium Matte, added Idea-ology Hardware Heads, strips of Idea-ology Label Tape and Specimen Remnant Rubs. I used the Distress Embossing Pen on the Hardware Heads and edges of the Label Tape, sprinkled with Vintage Photo Distress Embossing Glaze and heated until melted. Be careful when using the heat tool on the Label Tape because it is plastic.
I finished by matting the panels on to Idea-ology BlackOut KraftStock and added to white card blanks.
Enjoy your weekend whatever you have planned and I'll be back next week to share what I made with the remaining panels, i
n the meantime, stay home, stay safe and keep well
Hugs Kath xxx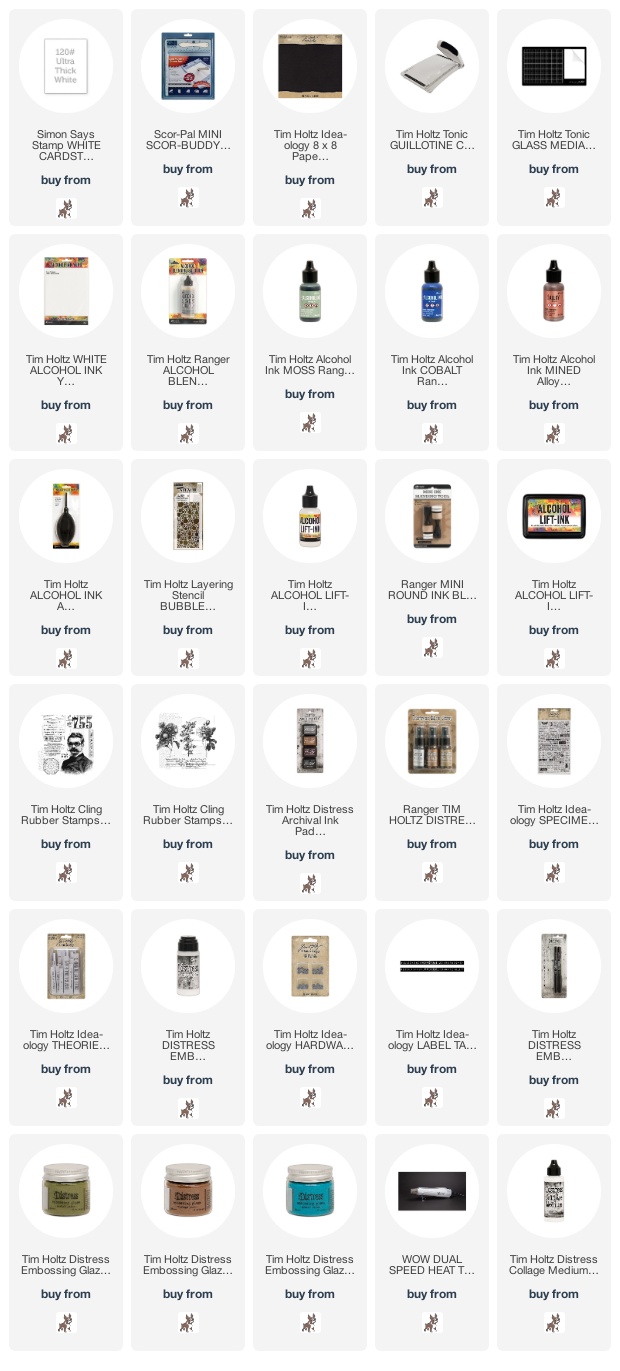 Where available I use compensated affiliate links which means if you make a purchase I receive a small commission at no extra cost to you. You can find my affiliate and product disclosure
HERE