Hi folks, another week bites the dust and already we're in to the month of October. There's a definite Autumnal chill in the air, in fact, there has been a flurry or two of snow up on the top slopes of Cairngorm and the red deer that live there will soon be making their way down to lower ground in search of food. So I thought it might be fitting to share one of the cards I made for the Facebook Live launch of Tim Holtz/Stampers Anonymous Christmas Collection using the magnificent stag from Modern Christmas. If you missed the launch on Facebook Live, you can pop over to Tim's blog and check out all the new stamps and stencils and admire the inspirational samples
HERE
.
Stags are such beautiful magnificent animals and I've seen them many times, if only from a distance, in the forest where The Furry Boy and I went for our lunchtime walks. Well that was the case until the day I had a very special, very terrifying close encounter which I'll share at the end of the post.
Back to the card which was one of those last minute cards made a few hours before Mr UPS was due to pick up the box of samples so what follows is a how-to, cobbled together, after the card was made and isn't it strange that it turned out to be one of my favourites, probably because there was no time for me to over-think the process. Aren't we all guilty of that.
I trimmed Distress Watercolor paper to 4.1/2" x 6.1/2", added a torn strip of masking paper across the bottom and flicked on drops of Distress Resist Spray. I spritzed the panel with Iced Spruce and Hickory Smoke Distress Stains and spritzed lightly with water to create that water droplet effect.
I stamped the cute snowflake from Seasonal Scribbles, removed the mask and stamped the deer from Modern Christmas with Black Soot Archival.
I matted the panel on to black cardstock and a 5" x 7" white card but felt that, even after stamping the sentiment, there was too much white space at the bottom, so I stamped the pine branch image from Seasonal Scribbles inked with Iced Spruce Distress Oxide ink to add a little colour to that corner, then stamped the pine branch again and the berries from Yuletide Gatherings inked with Black Soot Archival and added Ranger Enamel Accent White dots.
I inked the sentiment from Modern Christmas with Iced Spruce Distress Oxide ink and stamped below the feet of the deer, to ground him and fill in some more of the empty space.
OK, it's time to share the saga of my face to face, too close for comfort, meeting with a Red Deer Stag. It was a beautiful summer day and a normal, nothing out of the ordinary, lunchtime walk. The Furry Boy was way off in front rooting around in the undergrowth, ignoring my calls, as usual so I decided to take a "as the crow flies" shortcut through the dark dense part of the forest to catch up. As I turned a corner, next to a large tree just a few feet away, stood a HUGE stag with magnificent antlers. I'm not sure who was more surprised and I can't speak for him but I wasn't very happy about this chance meeting and quickly realised if he charged, I wasn't going to be the one walking away. I was frozen to the spot, holding my breath and frantically trying to remember all the stuff I'd seen on wildlife programmes - don't run, don't look him directly in the eye. He lowered his head, pawed the ground a couple of times and my "this is it" survival instinct kicked in. I jumped up and down, shouting like a howling banshee, waving my arms franctically in the air and after what seemed like forever but was only seconds, he snorted, tossed his beautiful, regal, magnificent head and sped off into the bracken, probably as traumatised as I was. It wasn't until he was in retreat I realised he was a mature Royal Stag identified by the 12 points on his antlers but I wasn't hanging around just in case any of his mates were round the next corner and ran as fast as my old legs could carry me to catch up with my "completely oblivious to the drama" Furry Bodyguard.
Have a great weekend everyone and I'll see you on Monday to share my project for next week's Simon Says Stamp Monday Challenge. Have fun whatever you are planning to do.
Hugs Kath xxx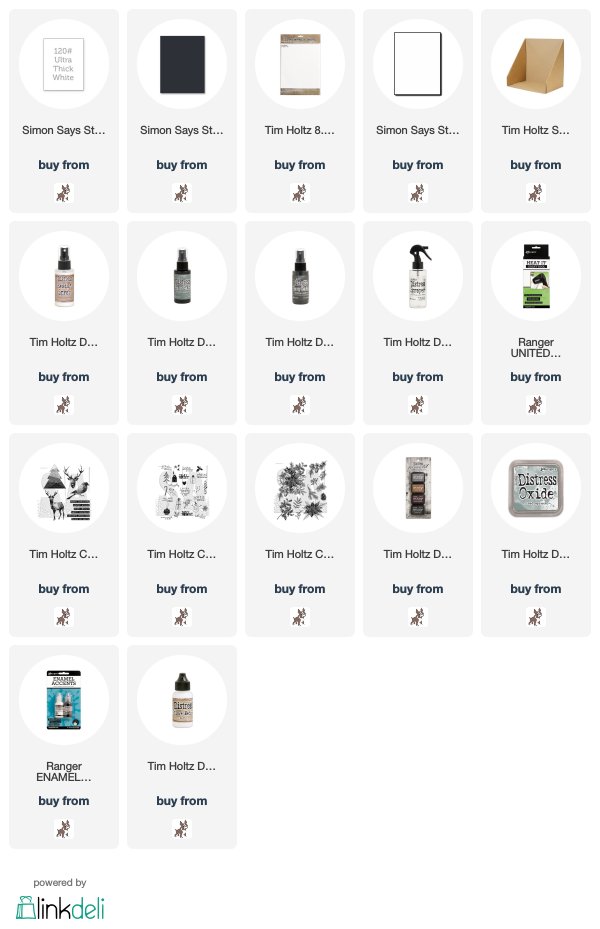 *** Where available I use compensated affiliate links which means if you make a purchase I receive a small commission at no extra cost to you. You can find my affiliate and product disclosure
HERE