Hi my friends, I'm currently on a mission to make a dent in the pile of backgrounds I've made inspired by all the fabulous Facebook Live Demos from Tim Holtz over the last 16 weeks starting off with some of the panels I created using Alcohol/Alcohol Pearl and Alcohol Alloy Inks.
I had great fun trying out some of the techniques Tim shared in the Facebook Live Alcohol Ink Part 2 Q+A using Alcohol Lift Ink, Bubblewrap, Cling Film, Isopropyl, Distress Resist Spray and Embossing Ink. If you missed these fabulous Alcohol Ink masterclasses, you can catch up over on Tim's Blog
HERE
and
HERE
.
I'm sharing 3 cards I made from the backgrounds and let's just say some were more successful than others.
The backgrounds on the first two cards were created by dripping Isopropyl on to 3.1/4" x 5" panels of Tim Holtz White Yupo followed by drips of Moss Alcohol Ink moved around with the Distress Air Blower, spritzed lightly with Isopropyl using a Ranger Mini Mister and dried with a hair drier. After decorating, the panels were fixed to panels of Idea-ology BlackOut KraftStock trimmed to 4.1/4" x 5.3/4" and fixed to 4.1/4" x 6" White Card Blanks.
For the first card I stamped the image from Tim Holtz/Stampers Anonymous Faded Type inked with Alcohol Lift Ink, patted the area with kitchen towel, repeated with a clean section of the towel until all the ink had been removed and buffed with a clean cloth. I stamped the script image from Faded Type and the face image from Nature's Walk both inked with Black Soot Distress Archival.
I added Idea-ology Small Talk Stickers, trimmed and sanded around the edges to reveal the white core.
On the second card, I used the Mushroom Alcohol Ink which had been lifted from the panel on the right created using bubble wrap. After removing the bubble wrap from the panel, I reactivated the ink left behind with a spritz of Isopropyl and stamped randomly on the background on the left.
I stamped the images and sentiment text from Tim Holtz/Stampers Anonymous Nature's Walk with Black Soot and Vintage Photo Distress Archival inks.
and added Idea-ology Small Talk Stickers as before
The third card uses one of the "not so happy with" background panels
created in the same way as the first 2 but with Mushroom Alcohol Ink. I spritzed the bubble wrap with Isopropyl using a Ranger Mini Mister, pressed it on to the panel and left to dry overnight. It created all these fabulous bubbly circles. I'm not sure what happened in the centre but it was an instant "no likey" moment.
Things don't always go to plan but I'm an old hand at getting over myself and help is never far away. I added a floral panel and butterfly from Idea-ology Botanical Layers, splatters of White Gesso and more Idea-ology Small Talk Stickers.
I'll be back soon to share more cards made from my Alcohol Ink Playtime, in the meantime, have fun with whatever you are creating.
Hugs Kath xxx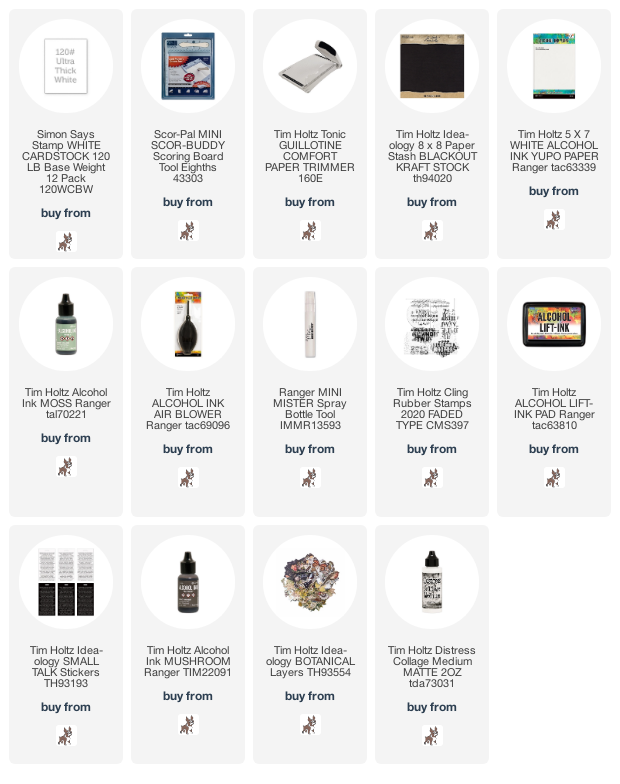 Where available I use compensated affiliate links which means if you make a purchase I receive a small commission at no extra cost to you. You can find my affiliate and product disclosure
HERE