Hi my friends, I'm sharing the Eileen Hull Pocket Notebook journal I made for the Tim Holtz/Sizzix Chapter 4 Facebook Live decorated with the Engraved 3D Texture Fade, Stacked Circle Thinlits and lots of Idea-ology Ephemera and oh boy, the detail, as always, with the 3D Texture Fades is absolutely stunning. If you missed the live, you can catch up with all the new products and the amazing inspirational samples over at Tim's blog
HERE.
I decided not to use traditional Christmas colours but to try and create a vintage feel using Distress Cracked Leather Cardstock for the covers and Idea-ology BlackOut KraftStock for the Engraved cover, showcasing the detail on both with Metallic Waxes.
I spritzed Idea-ology BlackOut card with water, placed in the Tim Holtz/Sizzix Engraved 3D Texture Fade and ran it through my die-cutting machine 3 times. I rubbed Gold Silver and Copper Metallic Waxes over the detail with my finger, built up the colour until I had achieved the look I wanted and buffed with a soft cloth.
Wow, wow, wow, I had to take a moment to savour all the amazing detail
I rubbed Copper Metallic Wax over the journal covers, trimmed down the Engraved panel, matted on to a slightly larger panel of the Idea-ology BlackOut card and fixed to the front of the journal.
I used Tim Holtz/Sizzix Stacked Circles Thinlits to die-cut frames and circles from Idea-ology BlackOut KraftStock, Found Relatives and a card scrap covered with Idea-ology Christmas Clippings Stickers.
I assembled the circles and frames, highlighted the edges with Gold Metallic Wax, decorated with the waste from BlackOut Kraftstock die-cut with Tim Holtz/Sizzix Arctic Thinlits and fixed to the front cover.
I decorated the inside covers with a selection of Idea-ology Christmas Ephemera and the Arctic waste and applied a coat of Distress Vintage Collage Medium Matte.
I punched a hole in the front cover and screwed an Idea-ology Hitch Fastener in place to use as a closure.
I threaded black elastic to hold the signatures in place and created a closure loop by threading elastic through an Idea-ology Story Stick, coloured with Gold metallic wax, tied with a knot on the inside. The loop will stretch along the back of the journal and hook around the hitch fastener. I also added an Idea-ology Christmas Words Adornment, also coloured with Gold metallic wax.
I'll be back soon to share more makes with the Tim Holtz/Sizzix Chapter 4 release, in the meantime, have fun with whatever you are creating.
Hugs Kath xxx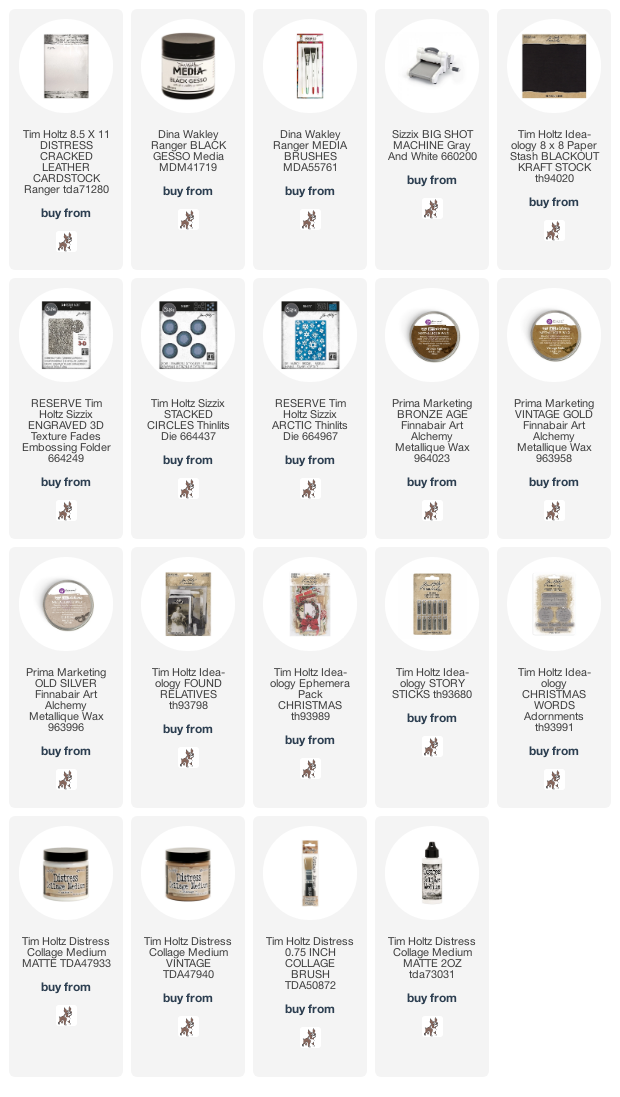 Where available I use compensated affiliate links which means if you make a purchase I receive a small commission at no extra cost to you. You can find my affiliate and product disclosure HERE