Hi folks, I was absolutely thrilled to be asked to make some samples for the Facebook Live launch of Tim Holtz/Sizzix Chapter 3 Seasonal dies and a huge thank you to Tim, Mario and Paula for inviting me to be part of this fun adventure. If you missed the Facebook Live, you can catch up with all the fabulous Halloween and Christmas goodies from the new release and the most amazing inspirational projects over on Tim's blog by clicking on the pictures below
And the best news is, all of the products from the new release are available to buy NOW from your favourite retailer.
So let's kick off with a visit to the Haunted House for a peek at the witch's dark, dingy and obviously, seen better days, sitting room using Fireside, Frightful Things and Regions Beyond Thinlits.
I started by covering a Medium Etcetera Tag with paper from the Materialize Paper Stash Pad using Distress Vintage Collage Medium Matte and while the paper was still wet, I tore off small sections to create that ripped wallpaper look. Once the paper had dried, I sanded the edges and applied another coat of Distress Vintage Collage Medium on top.
I fixed two Etcetera Brackets Trims together, covered with the same paper and sanded to remove the excess. I applied Distress Grit Paste through the Bricked Mini Layering Stencil from Set 3 and fixed to the bottom of the Etcetera Tag with Distress Collage Medium. I also applied Distress Grit Paste to the ripped paper sections.
Then it was time to fire up my trusty Sidekick, look out the Classic Kraft Stock scraps box, my Tim Holtz Sanding Grip and my "can't live without/makes life so much easier " Tim Holtz/Sizzix Adhesive Sheets.
I die-cut the Fireside Thinlits from white card and Classic Kraftstock. Once I fixed the different layers in place, I applied a coat of Distress Vintage Collage Medium Matte and added shadows to the detail areas using a Black Soot Distress Crayon, rubbing the crayon into the detail and wiping back with a cloth to create the effect of an old soot stained stone fireplace.
I fixed an Idea-ology Broomstick at the side of the fireplace and added the witch's hat, boots, cat and pumpkin die-cut from Classic Kraftstock using Frightful Things and the candle die-cut from Regions Beyond. I fixed Idea-ology Mummy Cloth in place with Distress Collage Medium Matte.
I fixed the spider's web die-cut from black Classic Kraftstock using Frightful Things Thinlits in place and added an Idea-ology Halloween Quote Chip to act as a shelf for the skulls and bottles die-cut from Classic Kraftstock using Frightful Things and Regions Beyond
I added spiders die-cut from Frightful Things and applied several coats of Glossy Accents to the bodies, allowing each coat to dry before applying more. To create the family portraits, I trimmed images from Materialize Paper Stash, matted on to black Classic Kraftstock and fixed in place with Tim Holtz/Sizzix Mini Foam Adhesive.
I die-cut the socks from Classic Kraftstock using the Fireside Thinlits because even a witch hangs her wet socks up to dry at the fire.
I'll be sharing lots more projects using all the dies from the Chapter 3 release between now and Christmas and will be back soon with another Halloween project.
Toodle-oo for now
Hugs Kath xxx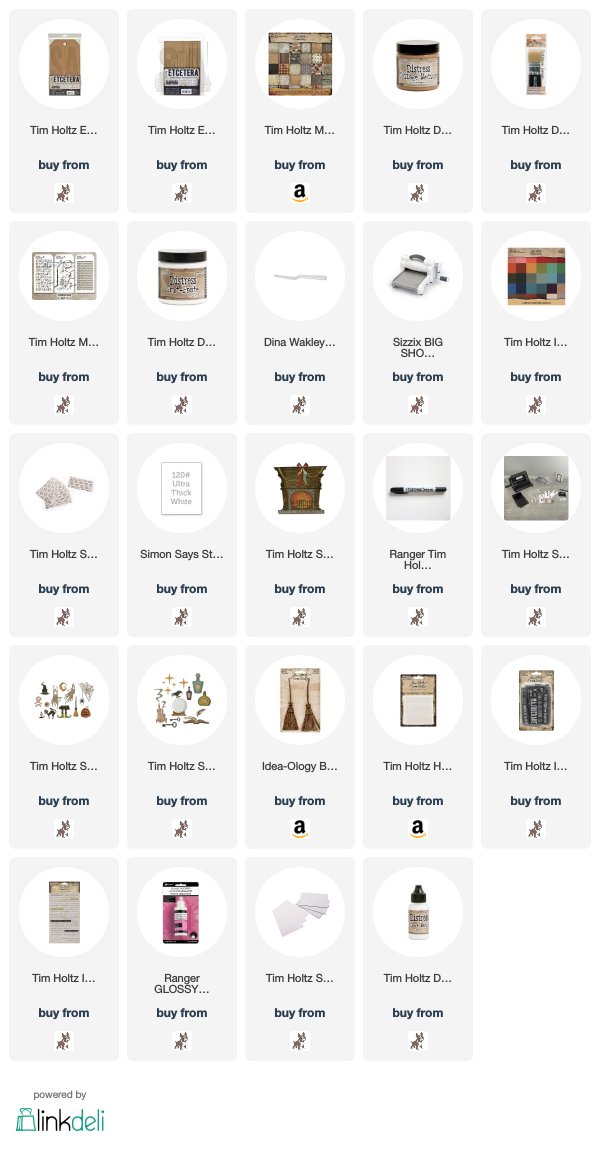 *** Where available I use compensated affiliate links which means if you make a purchase I receive a small commission at no extra cost to you. You can find my affiliate and product disclosure
HERE